You can prepare and use dehydrated peppers in many ways. In this article, I am going to show you how you can dehydrate peppers in an air fryer in the easiest possible way. I hope you will be able to make your own dried peppers at home after the read.
If you grow the peppers in your garden, then at the end of the season, you may fall short in fresh peppers. Therefore, dehydrating them can be a good way to consume throughout the years. You can rehydrate them and use them where necessary. Another way of using dehydrated peppers is to make powder. People also use dried peppers for hot sauces, soups, and many other Mexican recipes. However, before we know how the process of peppers, let us know the nutrition facts of them.
Nutrition facts of chili pepper (15 gm)
Peppers can be of different types. Below are the nutrition facts in 15 grams of chili peppers.
Chili peppers will give you some carbs. Other than the above nutrition facts, they contain vitamins and minerals. Vitamin contents include vitamin C, B6, A, and K1. The mineral contents include potassium and copper. However, as we intake a small amount of pepper a day, their contribution to our daily nutrition is insignificant.
Ingredients and equipment necessary for making dried pepper
Get some fresh peppers to get them dehydrated. This is the only ingredient you need. You may find various types of peppers such as chili, sweet, red bell peppers, and so on. You can choose any of them whichever you like. The dehydration process will be the same for all of these. Apart from this, you may need a sharp kitchen knife to slice the peppers if necessary.
Peppers ( any type)
Kitchen knife
Hand gloves ( for safety)
Dehydrating peppers in air fryer – Step by Step
The first step that you need to dehydrate peppers is to remove the stem and wash them properly. If the peppers are large, then cut them in half. You may make round slices if they are thicker. I would prefer to keep them untouched if they are smaller.
Now place the sliced peppers on the racks of the air fryer. Try to place them evenly and uniformly. Use all the racks and trays you have with the air fryer when arranging the chili peppers on them. Be careful about your hands. Do not touch your mouth while handling the peppers. Wash the hands properly after your job is done.
Set the temperature of the air fryer to 120° It is the most important part of the dehydration process. Dehydration is a slow process. If you set the temperature higher to cut the dehydration time, then the nutrition facts of the peppers will get destroyed. Dehydration is a process of getting away from the water slowly without destroying the food.
Dehydrating time will depend on the number of peppers you put on the tray and the type of air fryer you are using. Usually, it may take around eight hours to complete the process. However, if you think it needs more time, then add one or two more hours.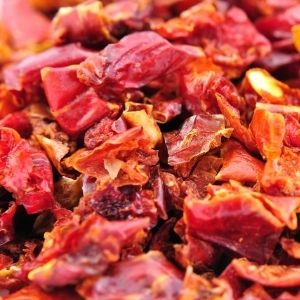 Storing of dehydrated peppers
The volume of any dehydrated food is lower than the food that you originally took. One pound of raw pepper will give you 4 ounces of dehydrated yield. To store them for a long time, you may use an airtight plastic bag or glass jar. Whatever you choose, keep it in a cold place without direct exposure to the sunlight. If you store them properly, then they may last for years. You can rehydrate any time and use them like fresh ones.
Can I dehydrate peppers with my air fryer?
You can dehydrate any kind of vegetable in many different ways. You can use a dehydrator, air fryer, or traditional oven. Whatever the method is, you need to maintain a temperature of around 120°F to dehydrate any kind of vegetable. When dehydrating with the air fryer, it is impossible to get this temperature if the air fryer does not have a dehydrator option. Therefore, when using your air fryer, check whether it can give you the required temperature for the food dehydration process.
My recommended air fryer for food dehydration is GoWise 17 Quart Mojave model. It has a large capacity with 5 layer racks that is important for food dehydration. It has wide temperature range and 8 hours timer setting option. You can use it for multi-cooking purposes such as cooking a whole rotisserie chicken as well.
Related articles
Bottom line
I think you are now clear about the process of dehydrating peppers with your air fryer at home. This is a generalized way of dehydrating any vegetables. As I have mentioned earlier, dehydration is a slow process. It will test your passion and patience. However, if you are an avid dried food lover, I would suggest you choose a dehydrator because you will not enjoy it in an air fryer.