Kitchen is an important part of your sweet home. A healthy kitchen can keep your family healthy. So, you must maintain your kitchen hygiene properly. From an unhealthy kitchen, different types of foodborne diseases may outspread. Only in the USA every year almost 48 million people get affected by food poisoning and die 3,000 of them. If we maintain kitchen hygiene, we can reduce the number remarkably. But how to maintain your kitchen and ensure perfect hygiene for your family? In this article, we will discuss kitchen hygiene rules and also give you some food safety guidelines.
Kitchen hygiene rules: Maintain your kitchen in different levels
The rules of kitchen hygiene should be maintained in four different stages such as,
Maintain your personal hygiene.
Cleanliness of the kitchen
Cleanliness during cooking
Storing food in hygienic way
Now, we will discuss the whole process step by step.
Personal Hygiene
Everyone wants to live a healthy life. To be a healthy person, maintaining personal hygiene is the key. By spending a little amount of time and money, you can easily maintain your hygiene. It has a lot of physical and mental benefits too. When we discuss kitchen hygiene rules, personal hygiene comes first to be discussed.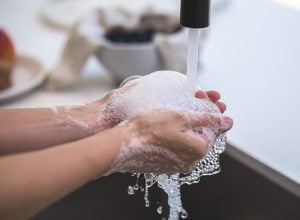 Trim your nails from time to time. Short trimmed and clean nails prevent problems like infected nail beds, hangnails, etc.
Washing hands is one of the most important parts of personal hygiene. You should wash your hand before preparing any dish, after coming from the washroom, before and after eating, after coughing and sneezing. You should also wash your hand when you touch anything suspicious that may contain viruses and bacteria.
Wash your body and hair regularly. Bathing every day is not important for everyone. But you should keep clean your body and hair regularly. Your body exfoliates skin continuously. If you don't wash them from time to time it can cause disease.
It is recommended that everyone brush teeth after every single meal. At least you should brush your teeth two times in a day and floss when it needs.
When you enter your kitchen, you must keep your hair neat and tidy. Messy and unclean hair might cause many kinds of inflectional disease. You can also use a kitchen cap or hair net.
You are suggested not to wear any kinds of hand jewelry during cooking.
Always keep a kitchen towel near to you. It will help you wipe your hand whenever it needs.
Try to avoid smoking and drinking in your kitchen.
Cleanliness of the kitchen
Although we use a kitchen for cooking and preparing food, it also produces a lot of garbage and waste material. Keeping our kitchen neat and clean is also a part of the rules of kitchen hygiene we are discussing.  Your healthy life mainly depends on your food habit and the quality of food mostly depends on the cleanliness of your kitchen. Let's find some tips for kitchen cleanliness in below.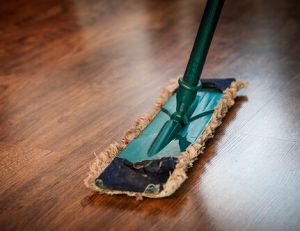 Steps to follow
You should maintain a kitchen bin or a trash bag in your kitchen. Empty your kitchen bin twice a day or at least once a day. Always try to use a good quality kitchen bin with a tight lid. It's batter if your trash bin opens with a touch-less sensor or with a foot pedal. Always keep the waste bin far from your main cooking area.
After finishing your cooking, cleaning the whole kitchen immediately is very important. You might be astonished to know that a kitchen chopping board contains more germs than the germs present on an average toilet pan seat. A dump or moist kitchen sponge and brushes are known as the paradise of bacteria. To reduce cross-contamination, it is very important to use a good quality hygienic product. Bacteria or germs growth is very common to the places where water delays for a while. So, you must wipe away the dish drainer often. You can also try a steam mop to clean your kitchen area.
Always try to use kitchen appliance which is easy to clean and simple in design.
You should wipe away your sink at least once a day. You can disinfect your sink with the help of warm water and a small quantity of disinfecting chemicals every week. Remember to rub the entire sink area and also clean the plus and plug chain.
After every use, you should clean your oven with a wiper. If you want to avoid any kind of cleaning chemicals, you can use baking soda and vinegar water.
You should use specially designed mats or rugs that are made for the kitchen. It helps you maintain your kitchen hygiene. When you choose a kitchen mat for your kitchen you should consider the followings:
Measure your kitchen space. It gives you an idea about the size and shape of the mat that is suitable for your kitchen.
Usually, flat-weave and anti-microbial rugs are suggested for the kitchen. Generally, this kind of rug is made from polypropylene.
Don't choose a slippery kitchen mat. If your rugs are already slippery and you don't want to change it, then use some non-slippery rug pad under the rug.
Finally, for kitchen beautification, rugs are very useful. You should choose the perfect color and pattern for your rugs that suit your kitchen.
Further kitchen cleanliness
Keep your fridge and freezer clean. You should take out the fridge compartments, racks and boxes to clean and disinfect these at least once a month. Clean with warm soapy water or a mixer of water, bicarbonate of soda and vinegar. You should also clean the outer surface of the fridge and freezer.
Try to defrost your freezer, at least once in a year, and wash all the boxes and compartments with liquid soap. You can also use hot or warm water. Not forget to rinse them gently before putting back.
Check the whole kitchen once in a month for deep cleaning. You also upgrade your kitchen appliances and tools as per your needs.
Always keep your countertop clean. Messy, sticky or dirty countertop demotivates you. It also affects your cooking performance. To maintain hygiene, you should never defrost the food on your countertop.
It is recommended to use disposable hand gloves, paper napkin, and kitchen tissue. If you are not able to do it always, you should clean and decontaminate them after every use.
Finally, a perfect and happy kitchen depends on its decoration. A well-decorated kitchen is precious for a woman. Here we provide some tips and tricks for kitchen.
You can use different kinds of tiles to make your kitchen colorful.
Use good quality washable painting in the kitchen wall. Always try to choose a light color painting for the kitchen wall, it helps enhance the brightness of your kitchen.
For a heavenly kitchen, you must have an open window that provides you fresh air and sunlight. It also helps you maintain the temperature of the kitchen.
You can also plant some small plants in your kitchen. The finishing touch of greens makes your kitchen environment fresh and pure.
Cleanliness during cooking
After making a beautiful kitchen, it's time for cooking, definitely for safe cooking. Safe cooking is the last stage of the kitchen hygiene rules that we are discussing. Food safety mostly depends on how safely you cook. For the art of cooking, you must know the science behind it. Now we will discuss the rules of cooking safety.
At first, you should know how your food can be contaminated. The word contamination means pollution or infection. If two or more different kinds of food mix one with another, as a result, pathogens like virus and bacteria grow in your food. So, your food becomes poisonous and toxic.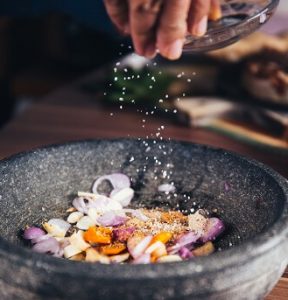 Rules to prevent cross-contamination
Frequently wash your hand with hand wash and dry them up. Especially when you touch raw food such as meat, fish, egg or vegetables. Follow the meat safety procedures.
Wash counter surface before and after work.
Don't use any kind of dump or dirty kitchen clothes.
Use two different chopping boards, one for fruits and vegetables and another for fish or meat.
Try to keep raw meat, fish or egg away from cooked foods or salad.
Always try to keep meat or fish in the bottom rack of your refrigerator or kitchen selves with a tight lid.
You should cook your food properly. Raw or medium raw food like meat, fish, and eggs might contain viruses and bacteria. Try to grind you meat at home.
Always try to eat fresh and healthy.
East the food such as salad, fresh juice, and dairy products as early as possible.
Keep all kinds of foods below 5 degrees Celsius.
Check the expiry date before consuming even if it looks good or smells nice.
Hygiene During storing
 Storing food perfectly is very important for food safety. Below are some important kitchen storage idea.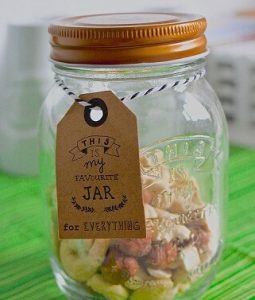 Before storing, wash fruits and veggies gently.
Don't store hot or wet food in your refrigerator.
Try to store different kinds of food in a different compartment.
Use a good quality container for storage with a tight lid.
Use disposable storage bags for fish and meat.
Always keep your food covered before you consume it.
If we can maintain all the kitchen hygiene rules discussed above, we will be able to live a healthier life hopefully. We hope that you have the answer of the question, 'how to maintain your kitchen to ensure kitchen hygiene?' We appreciate you write your feedback about our article in the comment section.