Preparing food in the kitchen is not an easy job. Just think about how many kitchen appliances you use even if you have a small kitchen. A perfect well-chosen kitchen appliance makes your life easier. One of the hardest parts of your cooking is mincing meat and vegetables. But if you have a meat grinder and a food processor, it is too easy to manage your kitchen. People are often confused about these two separate alliances. 'Are they the same? Can I grind the meat with a food processor? What if I process vegetables with my meat grinder?' – these are commonly asked questions among the users. In this article, I will try to write the basic function and differences between Meat Grinder Vs Food Processor.
Meat grinders and food processors both are applicable for mincing meat, vegetables and preparing soup. However, meat grinders are special equipment for grinding meats finely and uniformly. On the other hand, food processors can also perform grinding the meats but the output is not as good as the quality that can be achieved from a meat grinder. A food processor can perform mixing, chopping, and shredding vegetables as well. Now let's take a look at the basic differences between a Meat Grinder and a Food Processor. It will help you make the right decision for your kitchen.
Difference Between A Meat Grinder and A Food Processor
Although meat grinders and food processors both are similar kinds of kitchen appliances, there are some basic differences which you need to know.
Food Texture:
The main difference between a meat grinder and a food processor is the final product. If you use a meat grinder to grind your meat, it will be finely ground and evenly textured. On the other hand, with a food processor, your meat will be minced unevenly. Sometimes the meat will turn pasty.
Cutting Blades:
The meat grinder has different kinds of plates which can control the size of the output. You can easily change the texture of your ground meat using different kinds of blades and plates. But with a food processor, you cannot control the size of the processed meat.
Attachments:
The attachment of these two appliances are different. With a Meat Grinder, you will get different kinds of grinding plates and sausage stuffer of varying sizes. On the other hand, the standard attachments of a Food Processor are cutting blade and discs for slicing and shredding the foods. You can also attach some additional equipment with it to mix various kinds of dough. It can also be used for juicing and even whipping the egg.
Size:
Meat grinder and food processor, both are available in different sizes. If your meat grinder is small, lightweight, having a weak motor and inexpensive, most of the cases it will be nothing more than a toy. On the other hand, small and lightweight food processors are not as bad as a small meat grinder. There are so many good brands of food processors that are small in size and give you good performance.
The Utility of a meat grinder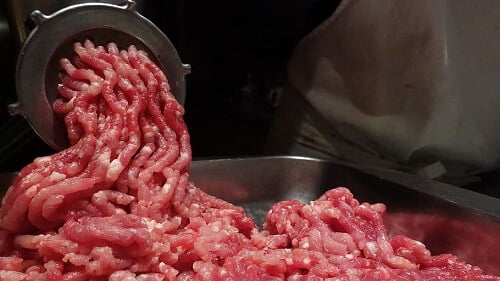 The meat grinders are mainly designed for grinding meat. A meat grinder can grind all kinds of meat like beef, chicken, lamb, mutton, turkey, and others. Meat grinders are better if you want ground meat for meatballs, sauces, burgers and more. Some special sturdy meat grinders can grind bones that can be used for making pet food. You can use a meat grinder for making cookie dough, grinding vegetables, nuts, and others. If we list the utility of a meat grinder, we get the below items:
Grinding meat
Making sauces
Making burger patty
Grinding bones
Grinding cookie dough
Processing and grinding vegetables
Grinding nuts
The Utility of a food processor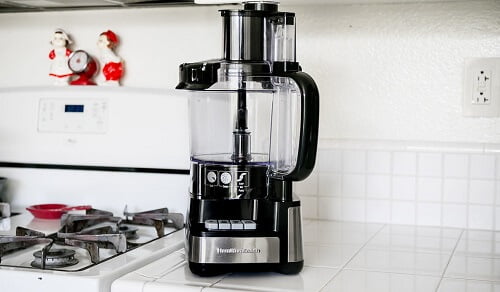 Food processors are good for all kinds of chopping, slicing, mixing, juicing, and shredding of food. You can also use it for blending sauces and grating cheese. People also use it for different purposes as per their needs.
Let's point out the main uses of a Food Processor
Crushing, mixing and slicing vegetables.
Making juice and milkshake
Making chips and fries
Sometimes slicing meat
Mixing and kneading dough
Grinding dried fruits and nuts
Which Is Best for You
It depends on your purpose. As we mentioned the specific utility of both of the appliance, you have to choose the right one for you if you don't want to buy both of the items. If you regularly cook ground meat dishes then I think Meat Grinder is your better choice. But if you are a vegetarian or salad lover you must need a Food Processor.
Can I grind meat with my food processor? It is a very common question people ask too often. And the answer is, yes! Not all of them, but some Food Processors can grind the meat. There are few suggested models-
Cuisinart DLC-2009CHBMY Prep 9 9-Cup Food Processor, Brushed Stainless
Cuisinart DLC-10SY 088 Food Processor, 7_cup, White
and  Cuisinart FP-8SV Elemental 8 Cup     Food Processor, Silver3
Final words
I hope that you have understood the differences between meat grinder vs food processor. Now it will be easier for you to choose the right machine for your kitchen. If you find the article useful, do not forget to share you with others. We appreciate your comment if you have any experience that is worth sharing. Have a good day!