Rinnai V65IN is one of the most popular indoor tankless water heaters in the market. This is a natural gas-fueled water heater that has so many positive aspects that are worth discussing. In this article, we will review Rennai V65IN as extensively as we can. We will try to cover all the features of this unit. Finally, we will end up with some recommendations.
We independently recommend the best products and may earn commissions if you purchase through our links.
Specification- Rinnai V65IN
Below is the table of the specification:
| | |
| --- | --- |
| Product Dimension (inch) | 17.5 x 30 x 13 |
| Product Weight | 50 lbs |
| Fuel Type | Natural Gas |
| Maximum Flow Rate  | 6.5 GPM |
| Installation | Indoor |
| Energy Factor | 0.8 |
| Wifi Compatibility | Yes |
Rinnai V65IN Tankless Indoor Water Heater
Understanding the maximum flow rate
The flow rate of V65IN is 6.5 GPM. But please remember that to get 6.5 gallons of hot water per minute, you need to maintain two conditions-
Input water temperature- Must be above 77°F
Output water temperature- Equal or above 105°F
We have control over our output water temperature, but how can we maintain the temperature of groundwater? Honestly speaking, you cannot control it. Therefore, you will NOT get the declared 6.5 GPM flow rate if you live in a colder region and thus your groundwater is cold. But I can help you sort out the expected flow rate at varying climate conditions in different locations. See the table below: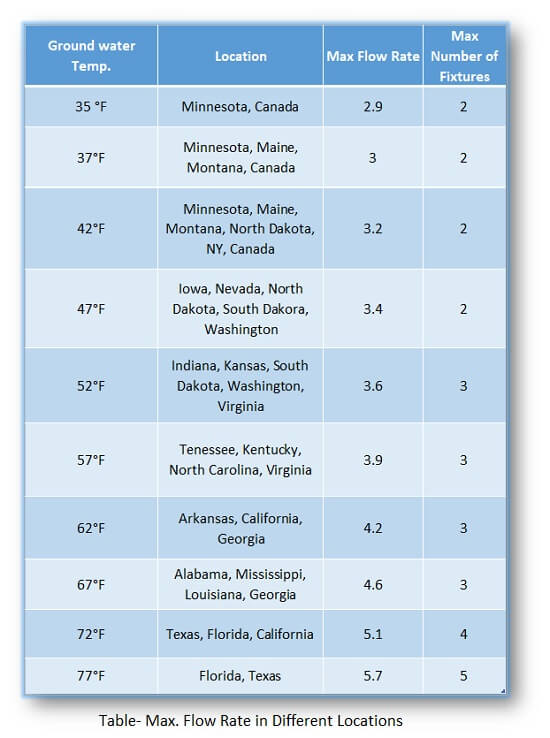 Features of Rinnai V65IN That We Liked
Higher flow rate
Rinnai V65IN has a considerably high flow rate of 6.5 GPM in a certain condition which is good enough for a big family. How does it stand with comparable models? If we compare the flow rates of some popular natural gas run water heaters, we get the below table.
| | | |
| --- | --- | --- |
| Model | Max Flow Rate (GPM) | Installation |
| Rinnai V65IN | 6.5 GPM | Indoor |
| Rheem RTGH-95DVLN | 6.61 GPM | Indoor |
| Takagi T-K4-OS-NG | 8 GPM | Outdoor |
The table above shows that Rinnai has slightly less GPM than Rheem, but not forget to consider the price of Rheem. Takagi also gives higher GPM but the price is far above Rinnai. Therefore, Rinnai wins for better value for money.
Energy efficiency
The efficiency factor of this water heater is 0.80. Let me explain the significance of this number if you are not familiar with it. The efficiency factor is the ratio of the energy that is converted as hot water to the total energy used by a water heater. In another word, Rinnai V65IN uses 80% of the energy to convert it into hot water. The remaining energy is lost or used by other activities of the machine.
How is this 0.8 value in comparison with other gas run water heater? As per our observation and study, Energy efficiency is a problem with a gas run water heater. An average gas-run water heater will have an energy factor of about 0.65 to 0.7. Therefore, Rinnai V65IN has an excellent efficiency factor that will save some money each month.
Lower utility bills
Where does this machine stand if we compare it with a traditional storage-tank water heater in terms of energy consumption? As a tankless water heater, Rinnai V65IN uses 40% less energy than that of a conventional storage water heater. It means you will have 40% less utility cost having the same amount of usage. This is a big number.
Smart functions
You can control this water heater with your smartphone through Wifi. This is a unique feature of this unit. You can remotely control the machine with this function and schedule the temperature as per your requirement. You can also monitor the status and address any issue before any breakdown.
Compact design
For an indoor tankless water heater, size is an important aspect. Rinnai V65IN is substantially smaller as a gas-run tankless water heater. If we compare the volume with the nearest competitor, below is the data:
| | | |
| --- | --- | --- |
| Model | Dimension (Inch) | Volume (inch3) |
| Rinnai V65IN | 13.9 x 8.8 x 23.6 | 2,887 |
| Rheem RTGH-95DVLN | 18.5 x 9.8 x 27.5 | 4,986 |
What is the benefit of having so little volume? It will save some precious space in your house.
Lower CO2 emission
Higher energy efficiency means lower energy consumption. Therefore, this unit will produce a lower amount of CO2 vent gas.
Higher life expectancy
This unit has a life expectancy of 20 years. A traditional storage tank lasts 8-10 years on average. Therefore, this machine will serve you much longer than a conventional one.
Good value for money
I have already compared the relative flow rate of V65IN along with the competitors. Considering the money you need to spend, you will get the highest amount of hot water with this unit.
Features That We Did Not Like
Setting up the Vent system
Needless to say, for any indoor gas-fueled water heater you need to set up a gas venting system. For V65IN, there is no exception. You need professional plumber which will cost you almost the same amount that you paid to buy the water heater.
Setting up new gas and water line
The installation of V65IN may require to set up a new gas and water line. It may cost you some money for buying some accessories.
Additional accessories
You may also need to buy some additional accessories such as condensing kit to make V65IN fully functional.
Is Rinnai V65IN suitable for a big family?
Rinnai V65IN is suitable for a big family. Let me define 'big family'. We can consider a family having 3 bathrooms and one kitchen as a big family. If we want full coverage with a single water heater, let us calculate the required water flow at GPM.  To avoid complexity, we consider the required flow rate of both a faucet and a water-saving shower as 1.5 GPM at full speed.
Total number of faucets/showers in a big family: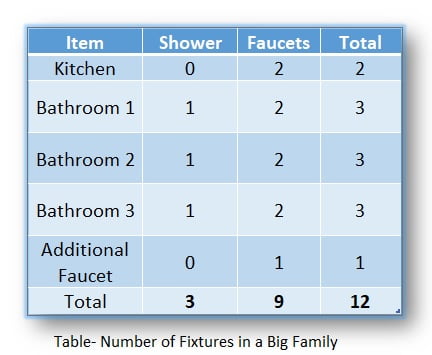 Therefore, in a big family, the total number of fixtures in the bathroom and kitchen is 12. Now, we can calculate the required water flow rate in two different situations.
The required flow rate during moderate use:
Although, you have 12 fixtures in your big family, how many faucets and showers you usually use simultaneously? I think it will not be more than 2. Therefore, the calculation of the required flow rate in moderate use is as follows: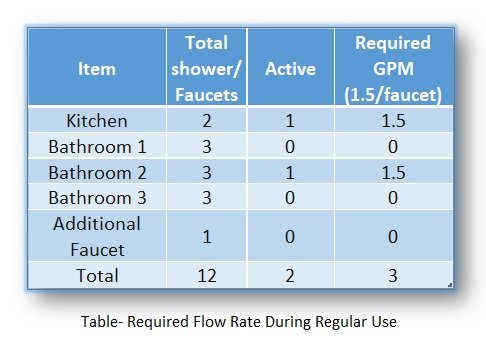 The required flow rate during peak-time use:
Similarly, we can calculate the required flow rate in peak time use considering that you will be using one shower/faucet in each of the bathrooms and one faucet in the kitchen as well. Therefore, the calculation of the required flow rate is as follows: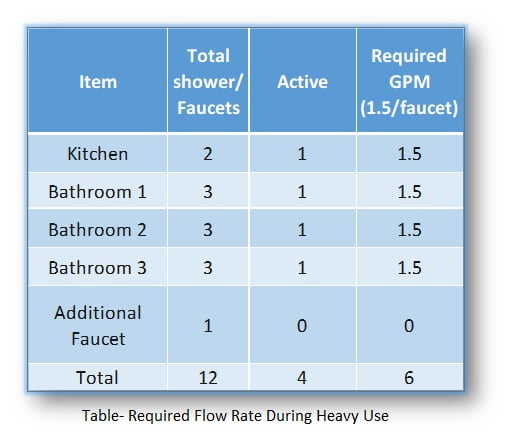 Finding
Rinnai V65IN has a maximum water flow rate of 6.5 GPM. As per our calculation, you'll need a maximum flow rate of 6.0 GPM during heavy use. Therefore, you will not be in the dearth of hot water even during peak time. But do not forget the temperature factor of the incoming/groundwater. Depending on the temperature of your groundwater, the maximum flow rate capacity of Rinnai V65IN will vary. But if you can maintain the input water temperature above 77°F, then you can certainly get the maximum output.
Indoor Vs outdoor – Are you taking right decision?
Freezing damage- If the climate is so cold that the temperature goes below freezing point, then an indoor water heater may save itself from freezing damage.
Windy climate- An indoor water heater is safe from the damage caused by wind and storm.
Increased value of your home- As you need to install a gas line and gas venting system for an indoor water heater, it adds a value to your home.
No Venting- If you do not have any gas venting system or do not want to set it up, then outdoor water is better for you because it does not require a venting system.
No risk of gas leaking- an outdoor water heater is free from gas leakage. Therefore, it will be better for you if you have zero tolerance about this issue.
Space saver- Usually people do not think much about space if it is an outdoor water heater. Therefore, if you have space constraints, you should choose an outdoor water heater.
Bonus Tips
Follow the weather temperature- Do not make the decision just seeing the maximum flow rate of 6.5 GPM this water heater. Follow the average temperature chart that we have shared with you in this article. The maximum flow rate is a variable for each location. Therefore, find out how much you will get in your location and then make your decision.
Turn down the temperature during peak hours- If you want to get maximum output from V65IN in the peak hour, set the temperature 105°F or more.
Set up the venting line properly- Rinnai V65IN is a natural gas-run indoor tankless water heater. This kind of water heater might be dangerous because of the flue gas which includes carbon monoxide. Therefore, set up the venting system properly and check it every year.
Final words
Considering everything, we must say that Rinnai V65IN is among the top 3 gas-fueled tankless water heaters and probably the best one in terms of the best value for money. The disadvantages of this unit are not any unique problems for this model. You will have to face similar issues with other gas run tankless water heaters as well. If you find this article useful, do not forget to share so that others can also get benefited from it. We also recommend you to share your experience regarding anything at your home or kitchen through the comment. Have a good day!