Home is the safest place in the world. After passing a busy day we come home and feel protected, calm and secure. But what about the unpleasant incidents that happen in our home? The bathroom is among the places where the frequency of hazards is the most. To minimize the bathroom disaster and improve bathroom safety, different types of grab bars or assist bars are widely used utensil. Especially for elderly, injured or unwell person, grab bar is unconditionally important. We usually realize the importance of the grab bar when we lose our balance and can luckily hold the handle of it and feel heavenly safe.
Ok, that is the grab bar, now let us know about the variations of the grab bars. It will help you choose the perfect one as per your necessity. A rightly chosen grab bar can keep your family safe from bathroom hazards.
Different types of grab bars
There are different types of assist bars available in the market. These are different from each other in terms of size, shape, material, and utility. In general, we can divide the grab bars into three categories-
Straight grab bars
Curved grab bars
Grab bars for miscellaneous purpose
Straight grab bar
Straight grab bar is the most common and popular grab bar that we see everywhere. It has a simple and elegant look that increases its demand rapidly. You can install it in any direction as per your needs. It's available in many sizes and materials.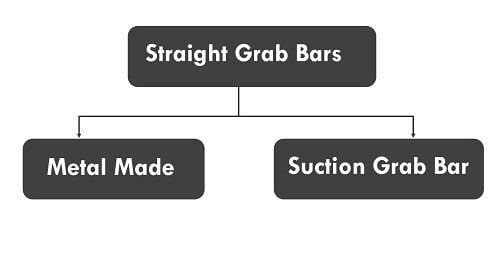 Metal made/Metallic fix grab
The most common straight grab bar is made of stainless steel but some are also made of aluminum. Below are some of its positive and negative sides.
Pros
Straight metallic grab bar
Simple and elegant looking
More durable than suction grab bar
Ensure more security
It can be used as a towel bar or cloth bar if you install it horizontally.
Usable on any kind of surface- coarse or plain
Cons
Price is more than suction type
Installation is complex
Suggestion
Moen R8712D3GBN Home Care 12-Inch Designer Bathroom Grab Bar
You can choose this warm and stylish brushed nickel finished grab bar as your bathroom fittings. Its elegant look enhances the beauty of the bathroom.
Suction grab bar
Apart from the straight grab bars that are made of metal, there is another variant of this type which is made of mostly plastic. This variant is called the suction grab bar. Usually, a suction grab bar has two rubber suction cups that hold the wall firmly. You can install this unit without the help of a plumber. Below are some pros and cons of this unit.
Pros
Very affordable
Hassle-free installation. Simply press and tab levers
Not fixed permanently. Therefore, you can relocate it anywhere anytime.
Easy to clean
Cons
Can't hold the full bodyweight of an adult
Less durable
Only for even, smooth and non-porous surface
Suggestion
Changing Lifestyles Safe-er-Grip 11.5″ Balance Assist Bar
You can use this suction grip bar as an assist bar if the lower load capacity is OK for you. Its comfortable grip will give a secure lifting experience, especially for the toddlers.
Curved grab bar
Other than straight grab bars, there is another type of grab bar that are curved or waved in style. It is especially good for people with medical issues. It is also better for the elderly person. But some wavy grab bars are only used for decorative purposes because of the stylish look. Curved grab bars can be further divided into three types-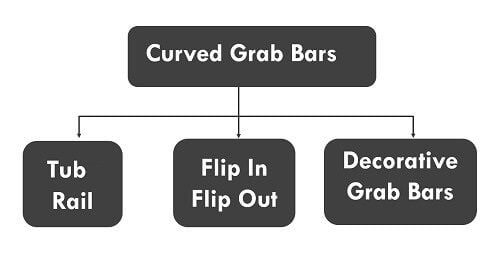 Tub Rail
People having medical issues you can use a tub rail type curve grab bar. It's very easy to install but not applicable everywhere. You can only use it for the bathtub.
Suggestion
Drive Medical Steel Clamp is one of the most secure and affordable tub rail curved grab bars that you can try. It is very durable and generally fits most of the tubs but not suitable for fiberglass tubs.
Flip in flip out
Another kind of curved grab is flip in flip out grab bar. This is also a good option for an injured person or senior citizen. You can fix it all over your bathroom wherever you need it. Especially it is more applicable for shower and bathtub and around the toilet area. This type of grab bar is perfect for a small bathroom wall.
Suggestion
Moen R8960FD 30-Inch Flip-Up Screw-In Bathroom Grab Bar is a good example of the flipping grab bar. It can hold up to 300 lbs. Its durable stainless-steel body has a good grip for people of any age. Its innovative design perfectly fits your smart bathroom.
Decorative curved grab bar
Last but not the least curvy grab bar type is the decorative curved grab bar. Not only for style, but this kind of grab bar is good for different kinds of support solutions.
Suggestion
CSI Bath ware BAR-WAVE14-OB Wave Shaped Grab Bar is one of the affordable, stylish and decorative solutions for your family.
Grab bars for miscellaneous purpose
Support bars that are used for different special purposes fall in this category. There are three different types of grab bars in this section. Below info-graph is self explanatory.
Security pole and curve grab bar
Security pole and curve grab bars have a long pole and a well griped curved portion. To install this kind of heavy-duty grab bar you do not need any permanent installation or any kind of home modification. When not required you can easily store it. You can set it up in the bathroom, bedroom or anywhere you want.
Suggestion:
Stander Security Pole and Curve Grab Bar is a reputed pole and wave grab bar. Its iceberg white color is good for night vision. Its slim and attractive look must change your thought about toilet rails and handrails. It is also durable and easy to assemble. You can easily rotate the arm and fix it with a security lock.
Multi-functional grab bar
A multi-functional grab bar has an attachment to the body. The attachment could be a toilet paper holder, a soap or shampoo case and so on. Soap case grab bar is a good choice for shower area or near bathtub and toilet paper holder grab bar is suitable in the toilet area.
Suggestion
Moen LR2356DCH Home Care 16-Inch Screw-in Curved Bath Safety Grab Bar with Built-in Shelf is a great choice for people who want a multi-functional grab bar. With this grab bar, there is a matching shelf that you can easily use as a soap shelf or shelf for other bath toiletries. Its shiny look complements your bathroom's decoration.
Stainless Toilet Safety Rails, WochiTV Handicap Grab Bar is a perfect multi-functional grab bar for the toilet area. There is a toilet paper holder included with it. This design is perfectly suitable for a pregnant woman. This is also good for seniors and people who are injured or sick.
Corner grab bar
Some grab bars are just suitable for the corner. This corner type grab bars are compatible with small and angular shaped bathroom. Sometimes it can cover both the shower and the toilet area.
There are two types of corner type grab bars- one is L shaped and another is the curved corner grab bar.
Suggestion
Moen 8994 24-Inch x 36-Inch L-Shaped Bathroom Grab Bar is a good example of L shaped grab bar. You can use it on the wall as well. L shaped design is reliable and enduring.
Moen LR2354DCH 9-Inch Curved Bathroom Grab Bar is the most popular curved corner type grab bar. The shelf and compact size of this unit have made it unique. If you install it in your shower place, its sleek look will enhance the beauty.
Final Words
I think now you know the different types of assist bars. You can choose the right one for you as per the need. If you find the article useful, do not forget to share. Let us know your experience about bathroom safety in the comment section. Have a good day!