Why people use a handheld sewing machine? 'Portability' is the obvious answer. Because of the unusual size and function, people get in trouble handling the hand sewing machine. Even the expert in big size sewing machine struggles when it comes to using a handheld sewing machine. In this article, we will give you step by step guide regarding how to use a handheld sewing machine so that you can ensure effortless sewing.
The utility of a handheld  sewing machine
A handheld sewing machine is not a replacement for a regular full-size sewing machine. You may have seen provoking advertisement that a lady is sewing almost anything by a stapler sewing machine. This is just an advertisement. A hand sewing machine can be useful for some repair job, but not 100% fit for this job either. Below are some pros and cons of a handheld sewing machine-
Super portable: you can carry it in your bag and sew anywhere you like.
Inexpensive: These are five to ten times cheaper than a regular sewing machine.
Cordless: you need not connect it with the electric socket. Therefore, it is convenient to use.
Difficult to use: You have to learn sewing a handheld sewing machine. These are not as easy as regular ones.
Stability: Unlike a regular sewing machine, handheld sewing machines are unstable. Therefore, it may result in zigzag stitches.
Lower tension: Like an expensive sewing machine, a handheld sewing machine can not produce higher tension. Therefore, it results in uneven stitches.
Bad finishing: The finishing of the stitches is not as good as a traditional sewing machine. You need to tie the thread manually when you finish that will produce a loose end.
From the comparison above, it is very clear that people use a hand sewing machine only because of the reason that it is highly portable. Therefore, even though the fact that the sew quality is not good and the sewing is not convenient, people still use this type of sewing machine. This machine is not suitable for users who are looking for a sewing machine for learning sewing. We recommend a mini sewing machine or sewing machine below 100 dollars for beginner sewers.
How to use a handheld?
Below is the step by step guide of using a stapler sewing machine.
Step 1- Setting up the batteries
You need to get the hand sewing machine ready to use. Unlike a regular sewing machine, which is powered by electricity, a stapler sewing machine is run by battery. Therefore, get the batteries installed first.
Step-2- Bobbin set up
A handheld sewing machine has only one source of thread- bobbin. The bobbin is located at the side of the machine. Pull the bobbin holder and spring and slide the bobbin in place.
Step 3-Threading
Now it is time to feed the thread. The complete pass-way of the thread from the bobbin is as follows-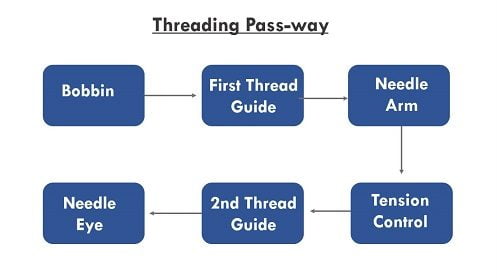 Step-4-Sewing
The trickiest part of a handheld sewing machine is threading and the most interesting part is sewing. After threading is done, a sewer has to lift the sewing plate and insert the fabric. You have to hold the fabric on your left hand and hold the machine by your right hand. Point the fabric where you want to sew. After you turn on the machine, the fabric will automatically be fed into the machine.
Step 5-Securing the stitch
The The seamstress should seal the thread after the sewing is done. The securing process is not as a traditional sewing machine because the handheld machine does not have reverse sewing. Therefore, lift the fastening plate, pull the thread and cut it. After that, turn the rotary wheel to create a loop at the end of the fabric where you want to secure the threading. This is a kind of manual process but this is the only option to secure the stitch by a handheld machine.
Final words
Learning of using a sewing machine is not any easy job. I think the article was helpful for you. Many people get confused about a handheld sewing machine with a mini sewing machine. As we mentioned earlier, a handheld sewing machine is only good for everyday mending and repair jobs. It is good for portability. It can save you from embarrassment caused by cloth tearing for any reason. But do not think this machine to be good for any big sewing projects. You still need to have a big size regular or mini sewing machine for this purpose.