Rinnai is among the top 3 brands producing tankless water heater. They have so many variations in tankless products. The variations help the users choose the right products as per their demand. The interesting part about Rinnai tankless water heater is that they have indoor, outdoor, gas-fueled, electricity fueled and propane-fueled tankless water heater variations of the same model. Therefore, as a user, you have so many options to choose from.
We independently recommend the best products and may earn commissions if you purchase through our links.
Specification- Rinnai V65EN
| | |
| --- | --- |
| Product Dimension (inch) | 17.5X30X13 |
| Product Weight | 50 lbs |
| Fuel Type | Natural Gas |
| Maximum Flow Rate  | 6.5 GPM |
| Installation | Indoor |
| Energy Factor | 0.8 |
| Wifi Compatibility | Yes |
Rinnai V65EN Tankless Outdoor Water Heater
Detailed Features & Advantages
Maximum flow rate
You can get a maximum of 6.5 gallons of hot water per minute from this unit given that your outlet water temperature is set to 105°F and inlet water temperature is above 77°F. That means the temperature rise is 28°F when you get 6.5 gallons of water per minute. We have no control over groundwater temperature which largely determines the maximum output rate of the Rinnai V65EN water heater. Below is the maximum flow rate at a variable groundwater temperature of different regions-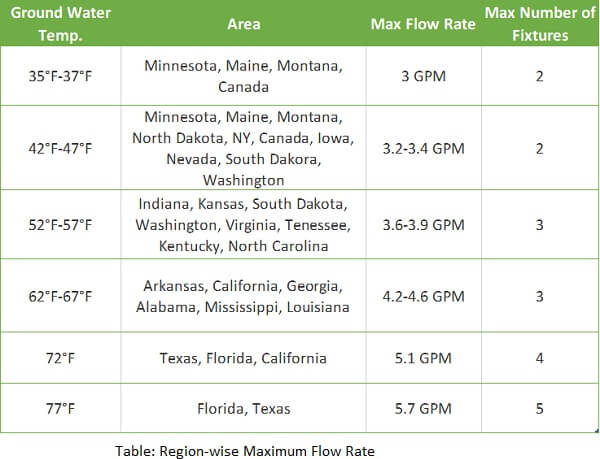 Good for a large family
A large family may consist of 3 bathrooms and one kitchen. From our experience, a big family has about 10 to 12 faucets and showers all together. If a fixture consumes hot water at 1.5 GPM rate, then V65EN can serve up to 6.5/1.5 or, 4 fixtures at a time. I think this will good enough for peak time as well. However, if you live in a colder region, you may not get hot water from this unit. For example, region like Canada and Montana- USA, where the average temperature of groundwater in around 35°F, you may get half of the declared flow rate. We suggest you not to use multiple of faucets/ showers simultaneously. You may also need to decrease the water temperature to 105°F when using in peak hours.
Outdoor installation
This unit needs to be installed outdoor. Rinnai has a similar model of indoor water heater which is V65IN. The indoor version is more popular than the outdoor one.
Energy factor
The energy factor of this unit is 0.82. It implies that 82% of the energy that V65EN uses is converted to hot water. The heater uses 18% of the remaining energy to run the other activities and some energy gets wasted.  We liked this feature of V65EN. Maintaining energy efficiency is difficult for a natural gas-fueled water heater. In most cases, a natural gas-run water heater will have an energy efficiency factor, not more than 0.7.
Fuel
This is a natural gas run water heater. If you prefer propane or electricity then Rinnai has variants of the same model.
Remote control through Wifi
You can connect the water heater with your phone through wifi. Through the mobile application, you can set the temperature and see the status of the heater. The most interesting part is, you can schedule the temperature as per your requirement. Therefore, no need for frequent manual changing.
Price
Rinnai V65EN has a price tag of around 600 bucks. Comparing with equivalent gas run the outdoor water heater, it is far inexpensive. Probably this is one of the top reasons why people like Rinnai V series tankless water heaters so much.
Cost-saving in the utility bills
V65EN will reduce your utility costs in three ways-
Because of the higher energy efficiency factor, it wastes less energy. Therefore, compared to others, it consumes less energy and saves more.
Compare to the traditional storage-tank water heater, V65EN will consume 40% less energy.
This is a gas-fueled water heater. Natural gas is a cheaper source of energy. Therefore, the operating cost of a gas run appliance is less than that of an electric appliance.
Size
Although size is not that important for an outdoor water heater, V65EN has the most compact size among its competitors.
What we did not like
Installation cost: Installation process of a gas water heater is difficult and complex. Therefore, it needs to take help from a professional plumber. To set up your Rinnai V65EN, you need to spend a substantial amount with no exception.
Higher electrical requirement: you may need to set up a customized electrical requirement to run this unit.
Is an outdoor water heater suitable for you?
V65EN is an outdoor tankless water heater. People install an outdoor water heater for three common reasons-
Concerned about safety- you may already know that gas-fueled water heaters produce flue gas. Oxides of carbon are the majority of the vent gas. Among these oxides, carbon monoxide is the most harmful to human health. Therefore, people who even have a gas vent system, do not like to install a gas-fueled appliance inside the house.
Do not want to install the expensive gas venting system- Installation of vent system for your indoor water heater is costly. You need to purchase additional equipment and pay for the plumber. Outdoor water heater does not require anything like this.
Space constraint- Whether the water heater is fueled with natural gas or electricity or even propane, some people will not install the water heater inside the room because of the shortage of space. A small 110-volt electric tankless water heater will not consume that much of space. These 110-volt water heaters are designed to install inside the room But most of the 240-volt big instant water heaters require more space that people might not like to keep inside their home.
Final words
Different variations of the same model of water heater prove the expertise of Rinnai as a producer of the tankless water heater. After considering the above analysis, we conclude that Rinnai V65EN is one of the best options you have in the outdoor gas tankless water heater category. This model is good enough to cover a medium to large house having up to 3 bathrooms and kitchen. It has few unique features such as remote controlling function, low utility cost and so on that earned most of the votes.