Bathroom cleaning is a tough, tiresome and somewhat disgusting to many of us. Everyone wants a clean and organized bathroom but no one wants to do the job of cleaning. Whether you like it or not, you should know the bathroom cleaning procedure not only for your hygiene but also for safety reasons. In this article, we will discuss how to clean a bathroom so that you can do it by yourself with minimum effort.
Tools and equipment required
To clean the bathroom properly you need some simple tools and cleaning chemicals. Find the items in given bellow:
Toilet brush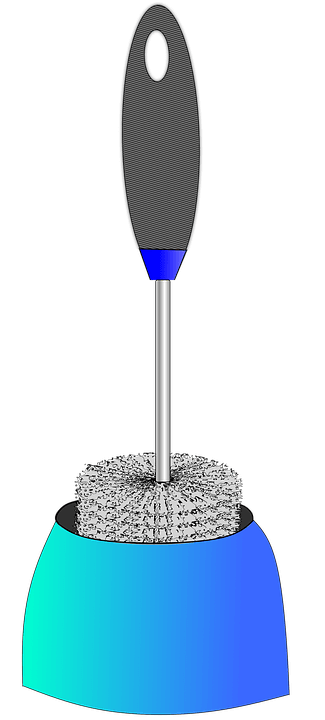 To clean the toilet bowl, you need a toilet brush. Cleaning the toilet bowl is the hardest part of bathroom cleaning. A good quality toilet brush can help you the most to overcome the hardship. If you feel disgusted reusing the same toilet brush, you can try a disposable toilet cleaning brush.
Disinfecting wipes
It is very challenging to keep the cleanliness and freshness of the bathroom. When it comes to the matter of germs, most of us do not know how to keep our bathroom free from it. If you want a hygienic bathroom, you must use disinfecting wipes regularly. Keep the disinfecting disposable wipes in a suitable place and wipe it on the sink, tub, and all counter after you use the washroom.
Sponge
Besides wiping, you need to sponge your bathroom counters with disinfecting cleaner on a few occasions. It helps you remove deep stains from bathroom surface.
Bathroom Cleaner
A bathroom cleaner should effectively do the cleansing job. There are various kinds of cleaners available in the market.  Which one is suitable for you? Only you know the answer. An all-purpose cleaner is good for everything but master of nothing. You can also try specialist cleaners for specific uses. Natural chemicals such as white vinegar, baking soda and so on are also good which are widely used as a cleaning agent. 
Squeegee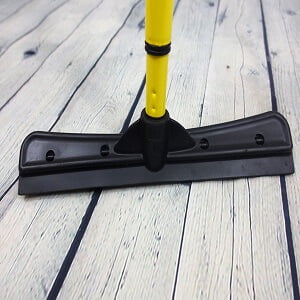 Squeegee helps you remove extra moisture, mildew and even soap scum from the surface. If you use it regularly, it will keep your bathroom glossy as new. You can also use a squeegee to clean the bathroom mirror and windows glass. 
Lint-free cloth/ rug
There are many kinds of lint-free fiber. When you buy a lint-free cloth, keep in mind that a lint-free cloth should not be made of cotton fiber. Pure cotton fiber can not be lint-free. The best lint-free fiber is made of 100% polyester. Microfiber cloth is a great example of lint-free cloth which is an unbeatable wipe for home. With a good quality microfiber cloth, you can clean the bathroom surface, kitchen countertop, kitchen appliances, dining table, and whatnot. To clean any kind of glass, use a wet lint-free cloth and afterward use a dry one to dry up the surface. Always keep your lint-free rug clean and wash it once in a week.
Rubber Gloves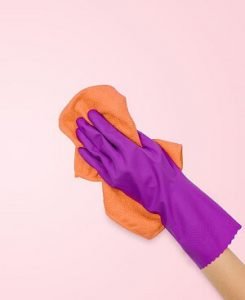 To protect your hand from any kind of dirt and chemicals you have to use good quality rubber gloves. Wash it properly after every use and dry it up before storage.
Old Tooth Brush
To clean the grout lines and corner block you should use a toothbrush which is the best solution. Keep a pair of old toothbrushes and use them for cleaning. It also helps you clean your kitchen and crafted designed pot.
Scrub brush
You need a handy and good quality scrub brush to clean the bathroom. It helps you a lot remove the stain marks of the bathroom which is a common problem for many of us. Try to use a soft scrub brush to clean the sensitive surface.
Grout brush
Most of us have tiles on the surface of the bathroom which is non-porous and perfect for a watery place like a washroom. The long life and easy to clean utility of the tiles is a bonus for us. But the problem with the tiles is that the porous grout of the tiles is affected by dirt and germs very easily. To clean these mold and mildew you can use a good grip grout brush. Nothing can do this job as good as a grout brush does.
Mop
To clean your bathroom surface easily and comfortably you can mop it. However, if your bathroom surface is big and very difficult to clean with a sponge, then mopping is the solution for you. Besides cleaning, a dry mop helps you clean the cob-web as well.
Cleaning Process
Now let's know the right procedure of bathroom cleaning. We will discuss the whole process into four parts for ease of your understanding.
Shower and bathtub cleaning
Sink and countertop cleaning
Toilet bowl cleaning, and
Floor cleaning
Shower and bathtub cleaning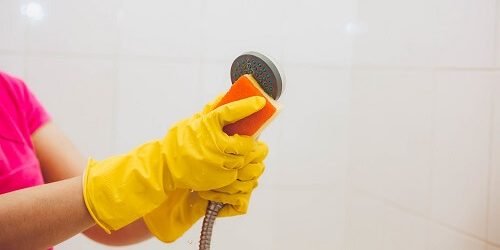 This is the most time killing step of bathroom cleaning. A bathtub might have soap scam, oil, and grease on it that you need to clean regularly to avoid any unwanted incident.
The cleaning process is given below:
Before starting your job, remove every small item such as soap, shampoo, and candle from the area you will clean. Mold and mildew can grow everywhere. Therefore, you might not like to keep any part of it untouched.
Clean the tiles neat to your shower top to bottom and from left to right. You can use a wipe. Use a microfiber wipe for better results.
Take grout cleaner and a grout brush or a simple old toothbrush to clean the grout. You can use a mixer of hydrogen peroxide and baking soda or a good quality grout cleaner to remove the mildew. You can also try a drill brush to remove mildew from your grout. It will make the job easier for you.
Now it's scrubbing time. Take the sponge and put some cleaning liquid on it. Now scrub the whole tiles properly. Thus, you can get rid of any kind of dirt or scum that is present on the tiles.
The glass of your shower has to be cleaned with a glass cleaner spray and a squeegee. You can use white vinegar and lemon solution as a glass cleaner spray.
Now clean the bathtub. At first, unclog the drain with a snake then rub the tub with a sponge. Use some liquid cleaner to clean it properly.
Now rinse and squeegee the area. At last, take a microfiber cloth and make it dry.
Bathroom sink & Countertop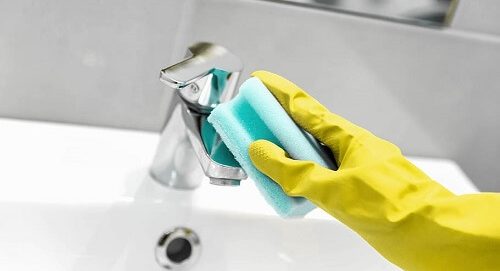 Try to clean the your sink and countertop in the following ways-
At first, fill your sink with hot water, wait a few minutes then let the water drain.
Take a sponge or scrub brush, sprinkle some cleaner and remove soap scum and toothpaste blotches. Instead of using a liquid cleaner, you can use baking soda.
For unclogging the sink, use vinegar and lime solution. If still face difficulty, you can use a drain snake.
Rinse the surface properly with water to ensure the cleanliness.
Then take a clean soft piece of cloth to wipe and make it dry.
Last but not the least, always keep the bathroom countertop organized. After every use, simply wipe the sink and the countertop even if it doesn't look dirty.
Toilet Bowl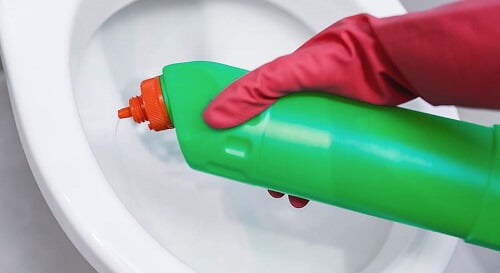 Toilet bowl cleaning is the most disgusting part of bathroom cleaning. To manage it smartly you have to clean it regularly. Let's have a look at the process.
Wear rubber gloves before cleaning the toilet bowl. Try to keep an extra pair of gloves for toilet cleaning.
Spray the mild cleaner on top to the bottom of your toilet.
Then take your toilet cleaner solution and pour it into the toilet bowl.
Scrub it gently with a toilet brush.
Now wipe the whole toilet with a disinfecting disposable wipe.
Flash the toilet bowl.
That's it. Take a paper towel and wipe the whole toilet for drying.
Bonus tips:
Tip 1: To remove any kind of hard stain, you can use a pumice stone. Use a toothbrush to clean the dirt which stays at the corner.
Tip 2: Use hand gloves of a different color to clean the toilet bowl and keep these separately. It will help you differentiate the new one with the used ones.
Bathroom floor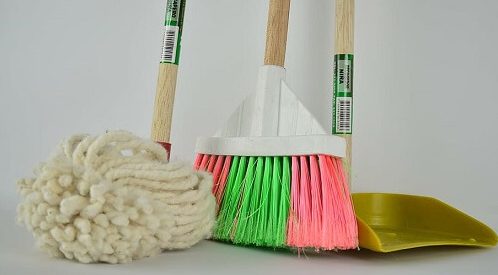 Cleaning a bathroom floor is not a big deal. If you want to keep it dry all the time, then maintain a schedule of cleaning. But if you have children, then maintaining a schedule will be difficult for you. In that case, you need to clean beyond your schedule sometimes.  Whatever, below are the steps.
At first, swipe the whole surface with a broom. You can also use a good quality mini handy vacuum cleaner.
Take the grout cleaner and spray it all over the floor tiles. If you don't want to buy it then try with the mixture of baking soda and water. Use a grout brush to clean the mold and mildew. You can also use an old toothbrush to remove the dirt from narrow spaces.
Take a bucket half full of warm water then add some vinegar and dish wash soap. Soak the rug into it and wring away. Now rinse the floor gently.
Now it's time to dry up the floor. Swipe the floor with a soft dry towel for drying. Dry up the floor with a disposable paper towel which is a more convenient way of doing the job.
Apply the same process for cleaning the wall.
Bonus tips
Clean your hair tools such as hairdryer, hair straightener with a mixer of baking soda and rubbing alcohol. You can use an old toothbrush and make a tool like new.
Always keep your bathroom vanity clean and organized. Use desiccants to keep it dry and moist free.
To get rid of bad odor, use bathroom exhaust fan, and air purifier. You can also use a toilet bomb, bamboo charcoal, and a burning candle. These also help you to keep the air fresh.
Keep the bathroom towel clean and dry. At least wash it once a week or when necessary.
Keep the toilet brush in a holder when it is dry. You can fill the holder with a deodorizer.
Final words
I'm sure now you know how to clean a bathroom like a pro. Apply your knowledge to make sure the hygiene of your family. If you find the article useful, do not forget to share it. If you have any experience regarding bathroom cleaning, please let us know through the comments. Have a good day!!