Dehydrated tomatoes are one of the most popular dried food items people consume. In the modern age air fryer is a common kitchen appliance. Therefore, it is a common question among us how to dehydrate tomatoes using an air fryer. In this article, I'm going to answer this question with step by step procedure.
Dehydration is a slow process. It has to be carried out at a very low temperature for a long time. It is the art of getting out the water from tomatoes or other foods without destroying the enzyme and other food values. Some people may have questions in mind about whether it is possible to dehydrate tomatoes in the air fryer. The straightforward answer is that the air fryer should have a dehydrator function to handle this boring kinda cooking. If your air fryer does not have the option, then find the best dehydrator for fruits and vegetables here.
Nutrition content of dehydrated tomatoes ( 1 oz/ 1 small piece)
Calories – 90 cal

Fat – 1g

Cholesterol – 0g

Total carbohydrate – 19g

Protein – 4g

Sodium – 35mg
Dehydrated tomatoes are lower in saturated fat and cholesterol. Other than the above-mentioned nutrition facts, tomatoes are a good source of vitamin A, C and K. Mineral contents of this vegetable include iron, potassium, copper, and magnesium. The bad about tomatoes is that the majority of the calories come from sugar. It is also very high in sodium. Therefore, we should not take it in excess amount in a single serving.
Ingredients and accessories needed
Tomatoes and salt are the only ingredients that you need to prepare dried tomatoes. Kitchen appliances that you need are a kitchen knife to slice the tomatoes in the proper size, a chopping board, hand gloves, and an air fryer with a dehydrator option if you do not already have it. You may also use a cooking thermometer to monitor the temperature.
Fresh tomatoes

Salt

Kitchen knife

Chopping board

Air fryer with dehydrator option

Bag with a zip-top

Thermometer
Step by step process – Drying tomatoes in air fryer
Step 1
First, you need to collect the ingredients and required accessories. Tomatoes and salt are the mandatory items. If you are a dry food lover, then I'd suggest you get the accessories as well.
Step 2
Take the tomato on a flat surface, preferably, on a chopping board. Now slice in into two if you are dehydrating plum tomatoes. For round-shaped ones, cut into four pieces. You may scrape the seeds out with a little spoon gently. Ensure the pulps remain intact.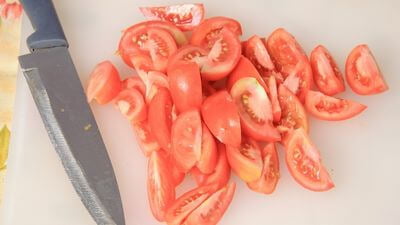 Step 3
Now turn down the halves of the pieces and make one or two slits on the skin. These slits will allow the air to pass through and expedite the dehydration process.
Step 4
In this step, sprinkle salts on the pulps. Salts will enhance the draining of water.
Step 5
Now it is time to arrange the slices on the air fryer. I would highly recommend choosing an air fryer with racks. It also needs to have a dehydrator option. Keep some spaces between the slices for uniform air passage.
Step 6
Set the temperature of the air fryer at around 120F to 130F. If your air fryer does not support that low temperature, then you should replace it with a new one. Cooking time is more than 8 hours.
Step 7
Turn the tomatoes every two hours and check whether they are dried. If the size of the slices is big, then it may take more time to complete the drying process. If you feel sticky, then stop the air fryer.
Step 8
Store the dried tomatoes in a zip-top bag. Keep it in a dry place to store for up to 3 months. If you want to store them for more, then keep them inside the refrigerator.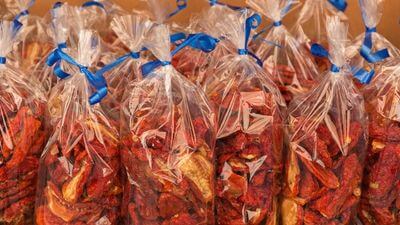 Can I use an oven to dry tomatoes?
Tomatoes contain 93% water. To dry up the water, they need constant warm air for a long time. If you hasten the process, you will end up with leathery pieces that will not last long. The reason behind this is that at high temperatures the structure of the nutrition contents gets destroyed. Therefore, it is not a good idea to try dehydrating foods at high temperatures. Whether it is tomatoes or other fruits and vegetables, we should try to dry these at very low temperatures. Therefore, the ideal machine we should use is a dehydrator or an air fryer with a dehydration option.
What are the best air fryers to dehydrate tomatoes?
Chefman 6.3 quart digital air fryer is a great choice if you want an air fryer that can dehydrate as well. It is suitable for a large family yet consuming a little space in the kitchen. The material used for this kitchen appliance is BPA-free. Therefore, there is no risk of any kind of food contamination. The double-layer racks will allow you to maximize the cooking capacity which is very important for food dehydration.
Gowise 17 quart air fryer is also a great choice if you are looking for a large one. It has 5 layer racks that are important for cooking in large quantities. Other than this, it has 8 hours cooking timer facility that is a rare quality of an air fryer.
If you would like to explore some other great options, then you may read our article on the best air fryers with dehydrator. Alternatively, you may check some great dehydrators for around 100 bucks.
Related Articles
Bottom line
What can you do with the dehydrated tomatoes? You can consume these simply as snacks. These can also be used as topping for any kind of salad or pasta. When you have a lot of tomatoes that can not be consumed at a time, then it is a good idea to get them dried to preserve for the future.